151st Delegate Assembly—Wrap Up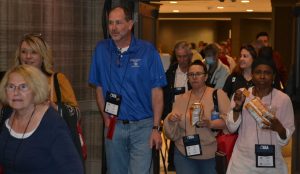 The 151st KEA Delegate Assembly was held in Louisville April 12-14, 2023 with more than 400 delegates tending to the union's business and setting a course for its future.
Delegates quickly went to work electing an NEA State Director and two KEA Ethnic Minority Directors at Large.  Noraa Ransey was elected to serve a three-year term as NEA State Director to use her skills as a teacher to serve KEA members nationally.
"I will work tirelessly on your behalf to ensure that NEA remains focused on issues that are important to Kentucky educators," said Ransey. "I will work to build legislative relationships and to use my classroom-honed problem solving skills to fight for policy solutions that actually work."
Natalie Rashad was elected as KEA Ethnic Minority Director at Large, Seat 1, and Tamara Patterson ran unopposed for KEA Ethnic Minority Director at Large, Seat 2.
The delegates also approved four amendments to the KEA Constitution and considered new business items, which direct the work of the organization for the coming year.  They approved the 2023-24 association budget and updated and approved the 2023-24 KEA Legislative Program.
The 2024 KEA Delegate Assembly will be held virtually. Delegates are elected from their local associations, with most elections occurring between September and November each year.  If you are an Active member of KEA and are interested in participating at the Delegate Assembly, contact your local association president or UniServ Director to learn more.