Rowan County's Melissa Jenkins Named KEA Teacher of the Year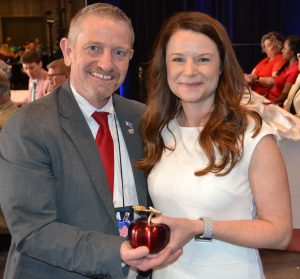 Melissa Jenkins, a biology teacher at Rowan County High School (RCHS), was presented with the KEA Award for Teaching Excellence at the 151st Delegate Assembly in April. She has been a KEA member and taught in Rowan County for nearly 20 years.
The annual teacher of the year award is presented to a KEA educator who exhibits excellence in five critical areas of teaching—professional practice, advocacy for the profession, attention to diversity, community engagement and leadership in professional development.
Jenkins is a graduate of Morehead State University, earning a Master of Science in biology and a bachelor's degree in biological teaching. She is a National Board certified teacher, holds her Rank 1, and is a member of the Kentucky Society of Technology Education (KySTE). Jenkins serves as a Student Showcase facilitator, leader of the WOW Wins of the Week, and has served as a professional development instructor for tech integration. She also served as a mentor for the Microgravity project of the International Space Station SpaceX CRS-16 Experiment and has partnered with colleagues at RCHS to secure a KySTE technology grant for $18,000.  Jenkins also secured a Pride Grant for outdoor classroom development that allowed the school to build two outdoor ponds and develop an environmental curriculum that focuses on water quality.
Jenkins dedication to integrating technology into her classroom, school, and community interactions has allowed her students to become actively engaged in their learning in ways that might not otherwise be possible. Using Google Earth, her class has been able to view Yellowstone National Park and the reintroduction of wolves there. Her students are part of a virtual learning community where they participate in a simulation of disease outbreaks and use interactive websites to monitor occurrences like Ebola and Coronavirus. Her classroom annually visits the Kentucky Science Center and views live open-heart surgery through a Pulse of Surgery broadcast program in partnership with the University of Louisville and Jewish Hospitals. Jenkins' students have also viewed kidney transplants and knee replacement surgery at COSI in Columbus through an online connection with Mt. Carmel Hospital.
"Participating in these virtual communities has led my students to create podcasts, generate infographics, use technology to research, solve problems, and analyze data to build science skills and practices," said Jenkins. "These experiences are life changing for my students and help them decide on future careers and educational choices."
"When it comes to practice, Ms. Jenkins leads the way. Her teaching practices and ability to connect with students is unmatched," said Kendra Schrader, a master teacher and curriculum coach at Rowan County schools. "In my role at the local university, one of my jobs is to place our mathematics and science students into classrooms for field experiences. Without a doubt, the number one place where students want to go is Ms. Jenkins's class."
Jenkins's involvement with the Rowan County Education Association has led her to recruit fellow teachers and promote the benefits of KEA membership. She attends local RCEA meetings and serves as a chair of her school's SBDM Curriculum Committee.
"I am proud to be a part of an organization like KEA that includes members that sincerely work together to promote the interests of public education to achieve common goals, and to recognize excellence in the profession," said Jenkins. "I hope to make teachers around the state proud to stay the course, and to keep a strong voice for one of the most important jobs on the planet. I am still in awe of receiving such a prestigious award."
"Melissa Jenkins exemplifies all that a teacher of excellence and a KEA educator in Kentucky should be," said Eddie Campbell, president of the 44,000-member education association. "She is a true professional who loves her work, grows herself and others in her profession, and works tirelessly at learning. She works hard work not for recognition or to earn such honors but because, as she says, 'my kids deserve my best.' She is so deserving of the KEA Teacher of the Year award, and we are so very proud to count her as a KEA member."