Fayette County Paraeducator Named KEA's 2023 Education Support Professional of the Year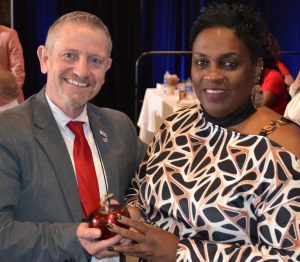 Mioeka Morse, a special education paraprofessional at the Academy of Harrison Elementary in Fayette county, has been awarded one of the commonwealth's most prestigious education honors—the 2023 Education Support Professional of the Year Award presented by the Kentucky Education Association (KEA).
As an Education Support Professional, Morse educates special needs children, makes sure IEPs are being met, ensures the safety of her students, helps them develop social skills, and exposes them to being comfortable in different environments. As a member of the Fayette County ESP Association (FCESPA), Morse is an important ally to her fellow members.
"Mioeka is the heartbeat of her school, and she is a powerful advocate for her coworkers," said Barbara Priest, FCESPA president. "She is a dedicated paraeducator that focuses on the individual needs of her students each and every day. She works especially hard to engage and encourage students to give their best effort."
Morse also contributes to her community by dedicating her evenings, weekends, and summers to the Family Resource Center and the Boys and Girls Club. There she supports our young people by eliminating barriers to learning and provides opportunities that students might not otherwise have access to.
"Ms. Morse is not just an educator, she has dedicated her life to empowering our children to transform their lives," said Melissa Jordan, a Fayette County school behavior specialist and colleague of Ms. Morse. "If it wasn't for dedicated people like Mioeka who are willing to work for all of our children, they may not have any hope for an education or a successful future."
A KEA member since 2007, Morse has served FCESPA by educating coworkers about the union.  She stresses how important it is to be a member and how unity raises everyone in the profession up. She has attended education rallies at the Capitol and volunteered at FCESPA information tables. Her community work with the Salvation Army and Boys and Girls Club reflects her commitment to her school and her profession.
Morse says her dedication to her union, students, and community is simply a labor of love. "I would tell anyone entering the profession, love what you do, wear your heart on your sleeve," said Morse. "It's not going to be easy, but it's well worth it.
"Mioeka embodies what every education support professional strives to be," said KEA President Eddie Campbell. "She is dedicated and involved with her students, school, community, profession, and her union. She gives her time and effort to make each of them better. There is no one more deserving of the KEA ESP of the Year award."