KEA Member Charlotte Buskill awarded $25,000 Kentucky Milken Educator Award
Third graders thrive in Buskill's student-centered classroom at Newton Parrish Elementary School in Owensboro public schools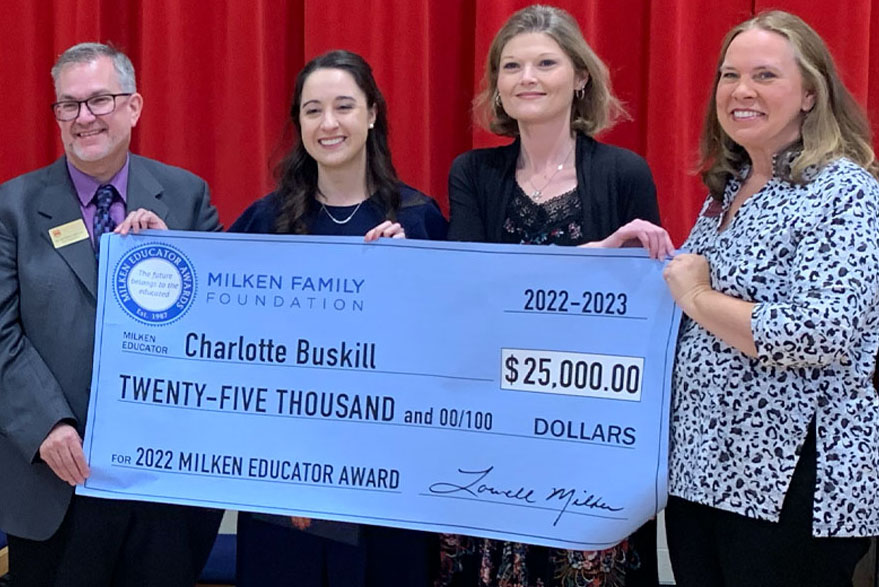 At Newton Parrish Elementary in Owensboro Public Schools, Kentucky, third grade teacher Charlotte Buskill brings out the best in everyone in her classroom. Students are enchanted as her classroom transforms into exciting worlds that match the books they are reading. But on November 10, Buskill's world turned upside down when a "Back-to-School" assembly culminated with the shock of her life: recognition as the recipient of Kentucky's 2022 Milken Educator Award and a $25,000 prize. 
Buskill is among up to 40 elementary educators across the nation who will receive the Milken Educator Award during the 2022-2023 school year. Hailed as the "Oscars of Teaching," Milken Educator Awards inspire and uplift with the unique stories of educators making a profound difference for students, colleagues and communities.
"Charlotte Buskill is a shining example of the quality and dedication that KEA members and Kentucky's educators bring to their classrooms every day," said KEA President Eddie Campbell. Her passion for teaching not only inspires her students, but her fellow teachers as well. We are proud to call her a KEA member and colleague."
"Education is so important to me. My students are so important to me, so to be recognized for that with all the hard work we've done all through the pandemic, it's really moving because it's been hard and we push through because we love the students," said Buskill.
Buskill's mother was her inspiration. A first-grade teacher, her mom provided her with the feeling that school was a safe and loving place. That was particularly important to her because she suffers from dyslexia.
"I'm dyslexic. Learning wasn't easy," said Buskill. "When people invest in you, you can go really far. So that's how I just knew early on that I wanted to go into education. Every single teacher along the way has put me where I am now."
"On behalf of the 44,000-plus members of KEA, congratulations and well done to Charlotte for receiving this well-earned reward," said Campbell. "You make your fellow KEA members proud."