Professionalism - Classroom Management
KEA Classroom Management Trainings
We offer Classroom Management trainings in multiple ways.
1. Live Training Options
Cost: FREE
This is a 3 hour training conducted by members of our Classroom Management Cadre based on the Classroom Environment Section of the Danielson Framework. All educators are evaluated using this Framework. During the initial training you will gain a deeper understanding of the Framework and your management style. You will gain strategies and foundational knowledge that will guide you in the 5 Framework Areas that are needed to have a solid Classroom Environment and management.
Training Dates:
AUGUST 31, 2021 5:00-8:00 EST Virtual Session
Additional Dates for in-person training sessions will be released soon.
You will register in our Learn Upon Portal. To create and account and register click here:
This session is on the front page of the store.
* The Virtual course will be conducted through zoom and you will need access to a video & sound. You will also need to be actively participating throughout the training. *
2. Virtual Group Implementation Discussions
Cost: FREE to KEA Members
Anyone participating in a 3 hour overview will be invited to take part in these 1 hr follow-up support sessions.
You can choose as many or as few as you would like. They are designed to be more disucssion and strategy based so that you can gain additional practical knowlege about implementing this area of the Danielson Framework into your classroom.
2E- Organizing Physical Space
2A- Create an Environment of Respect & Rapport
2B- Establishing a Culture for Learning
2C- Managing Classroom Procedures
2D- Managing Student Behavior (Expectations)
2D- Part II Managing Student Behavior (Monitoring & Responding to Student Misbehavior)
3. NEA's Micro-Credentials
Cost: FREE for KEA Members
$75 for non KEA Members
Micro-credentials are competency based and take approximately 15 hours to complete.
They are intended to be done over 6-8 weeks to show growth and competency in the content area.
4. On-Line Course Options
These are courses offered through 3rd party vendors that KEA has partnered with.
Cost: $39
The course will take approximately 5-6 hours to complete.
You will receive a certificate at the end of the course as proof of attendance.
Cost: $25 -$40
The course will take approximately 1-2 hours to complete.
You will receive a certificate at the end of the course as proof of attendance.
5. Recorded Webinar Option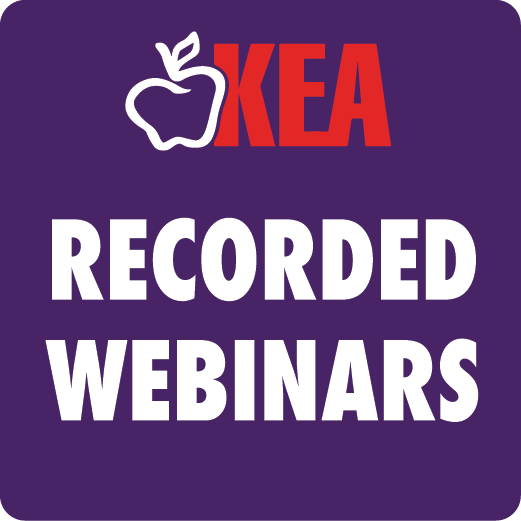 We have several recorded webinars available for viewing in KEA's Professional Learning Portal.
Cost: FREE for KEA Members
$10 for non-KEA members
Each is approximately 1 hour
You will recieve a certificate upon completion of the webinar as proof of attendance.
If you have an questions you may contact Michelle Grimes Jones, KEA's Director of Professional Excellence at mjones@kea.org