KEA Honors New 2012 NBCTs at Governor's Mansion
Thursday March 7, 2013
Tags:
News
---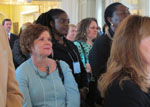 Kentucky has 268 new NBCTs! The NBCT's, their guests, KY House and Senate legislators, and other education dignitaries gathered for a ceremony honoring their new Board Certified status today at the Governor's Mansion. KEA members who were recently awarded certification for their accomplished teaching were commended in a KEA sponsored pre-ceremony which brought acclaim and congratulations from Speaker of the House, Greg Stumbo, KY Teacher of the Year, Kristal Doolin from Corbin, Dr. Ron Thorpe, President and CEO of the National Board for Professional Teaching Standards, Executive Assistant to the Governor, Colmon Elridge and KEA President Sharron Oxendine. Mary Ann Blankenship, KEA Executive Director served as Mistress of Ceremonies.
Ms. Doolin, a language arts teacher at Corbin Middle School, spoke of "enduring" this intense process that requires much analysis of the candidate's practice. She challenged the new NBCTs to "carry the torch, continue your growth and model for other teachers what National Board Certification can do for them." Dr. Thorpe urged the group to raise the percentage of NBC teachers here in Kentucky—already over 6% (one of the highest percentages in the nation), so that every child, every student –especially our preschool and early elementary students—has the opportunity to learn from an accomplished teacher.
Speaker Stumbo, while bringing greetings from the Legislature, reminded us of the courage it takes to bring about education reform in Kentucky, and that courage will be needed to continue making progress and growth in poor economic times. He shared how a teacher made a difference in his life and impacted his life's journey. Perhaps the most personal story about his relationship with teachers and education that altered his life's path, was Executive Assistant Elridge. "You make the difference for the boys and girls without opportunity. You give hope and guidance to those of us that have few if any paths to follow. Keep on, keep on."
This is the fourth NBCT Reception KEA has held prior to the official "Hill Day Celebration" sponsored by the KY Education Profession Standards Board in the Capitol Rotunda.
Comments
---