Celebrate great teachers during Teacher Appreciation Week
Thursday May 2, 2013
Tags:
News
---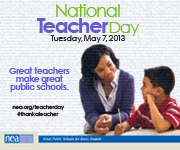 Teacher Appreciation Week will be celebrated May 6-10. National Teacher Day will be recognized on Tuesday, May 7. Find more suggestions at http://www.nea.org/grants/1359.htm

Make a real difference in the lives of amazing teachers nationwide by taking these five easy actions:
Urge your elected leaders to stand up for teachers and students by restoring funding for early childhood education, special ed, college work-study and more.
Ask Congress to support educators where it really counts, in their pocketbooks.
Support public education by making a donation to the NEA Foundation.
Nominate an amazing teacher for People Magazine's 2013 Teacher of the Year Award.
Visit your local school and find out how you can help. Volunteer in the concession stand at a football game, donate supplies, or chaperone an event.
On Tuesday, May 7 join our celebration of amazing teachers by:
Comments
---