Congratulations, Union County!
Thursday March 21, 2013
Tags:
News
---
Having reached 100% participation on the TELL survey, Union County was selected this week as the district to receive $1,000 for one teacher.
Union County Learning Academy (UCLA) was the winning school. At the district level, all UCLA teachers' names were included in a drawing. With several Central Office staff as witnesses, Personnel Director Georgiann McCord drew the winning name.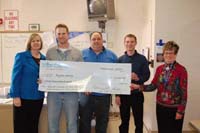 Congratulations Ryan Davis for being the $1,000 winner in the TELL Kentucky drawing! Ryan was presented with a mock check for the $1,000 and the actual check from KDE "is in the mail".

At a district level, staff were rewarded with a "Jeans Day" for their participation in the survey. The state will continue to have weekly drawings until the TELL survey is complete—meaning lots more opportunities for Union County teachers to win cash prizes. Great job, Union County!
Comments
---