145th KEA Delegate Assembly
Delegates elected officers and honored award winners
Tags:
Delegate Assembly
---
Recap of the 145th KEA Delegate Assembly: Delegates elected new officers, honored Teacher and Education Support Professional of the Year and presented scholarships to outstanding pre-service teachers.
Terrilyn Fleming of JCTA is 2018 Teacher of the Year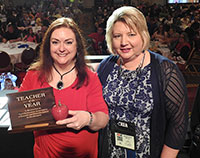 Terrilyn Fleming of JCTA is the 2018 recipient of the Kentucky Education Association (KEA) Award for Teaching Excellence. Fleming, who is theatre director at the J. Graham Brown School in Louisville and a member of the KEA Board of Directors, was presented with the award on opening night of the 145th KEA Delegate Assembly.
The KEA Award for Teaching Excellence recognizes, rewards and promotes excellence in teaching and advocacy for the profession. It also honors public education and the dedicated members of the KEA.
The award is presented jointly by the National Education Association (NEA) and the NEA Foundation for the Improvement of Education and the National Education Association, with additional support from Horace Mann Educators Corporation and I CAN Learn® Education Systems.
As KEA's honored recipient, Fleming received $1,000 and a commemorative plaque and will represent KEA at the annual NEA Foundation's Salute to Excellence in Education Gala in Washington next February. As KEA's Teacher of the Year, Fleming will be awarded the California Casualty Award for Teaching Excellence, and be nominated for the NEA Foundation's highest honor, the NEA Member Benefits Award for Teaching Excellence.
---
Fayette County's Frankie Langdon is 2018 ESP of the Year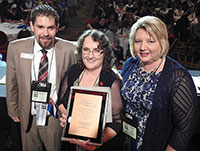 Frankie Langdon, a Library Media Specialist for the Fayette County Schools and President of Fayette County ESPA, is KEA's 2018 Education Support Professional of the Year.
Langdon, who has worked in Fayette County as a para educator and media specialist since 1995, represents classified school employees on the Kentucky Group Health Insurance Board. She was elected president of FCESPA in 2014 and in that same year led a successful effort to prevent Fayette County from privatizing its custodial jobs.
Langdon automatically is nominated for the 2018 NEA Education Support Professional of the Year Award, which will be presented in March, 2018 at the NEA ESP Conference.
---
Robin Brown of Murray re-elected NEA Director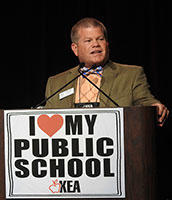 Delegates to the 145th KEA Delegate Assembly in Louisville re-elected Robin Brown, a second grade teacher at Murray Elementary School in the Murray Independent School District, to one of KEA's two seats on the NEA Board of Directors.
Brown, who has been a KEA member since he began his teaching career 21 years ago, was first elected to the position by the KEA Board of Directors to fill a vacancy created by the resignation of Kandie McDaniel last year.

Brown previously served as an Association Representative, and then as President of Murray EA. He has represented First District on the KEA Compliance/Constitution Committee since 2010.
---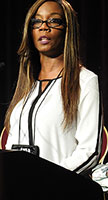 Lucretia Starnes of Bardstown elected Ethnic Minority Director on KEA Board
Delegate also elected Lucretia Starnes, a teacher at Bardstown High School, to the position of Ethnic Minority Director at Large on the KEA Board of Directors. Teaching is a second career for Starnes, who earned her teaching certificate from the University of Louisville in 2009 and has taught at BHS since 2010. She has Master's Degrees in Special Education and Organizational Leadership and is working on her MBA.
---
Delegates Honored Four Winners of Dodson-Perkins Scholarships

The KEA Visibility Committee is responsible for selecting the winners of the Marvin Dodson-Carl Perkins Scholarships each year. Visibility Committee Chair Jessica Page presented scholarship award checks to four of the recipients on April 6 at the 2017 KEA Delegate Assembly in Louisville. They are: Jeff Eddy, Destini Baker and Shaleigha Richard of Kentucky State University; and Ava Herms of Eastern Kentucky University.
The five other honorees were student teaching and could not be present to accept their awards in person. They are: Alexandria Miller, Transylvania University; Alexis Shelburne, Georgetown College; Abbi Rogers, Murray State University at Madisonville; and Megan Thomas and Michael Westerman, Murray State University at Hopkinsville.
The Dodson-Perkins scholarships are given to members of the KEA Student Program who are juniors, seniors, MAT candidates or post baccalaureate students seeking a first-time teaching endorsement in a Kentucky college or university. KEA considers these scholarships to be an investment in the future of Association leadership. Many past recipients of the Dodson-Perkins scholarship awards have gone on to become local, district and state KEA leaders.
---
The 2016-2017 KEA Fellows Class "Graduated" at Delegate Assembly 145


The KEA Fellows Program was created in 2013 to foster and mentor emerging leaders in our association. Fellows are mentored by the KEA Executive Committee and immersed in learning the duties and responsibilities of KEA Leadership. During their year in the program they attend local, state, and national association events in order to study leadership styles, and they have opportunities to foster and develop those styles.
The KEA Fellows Class of 2016-17 is the fourth such group and, like the others, they had their "graduation" at the Delegate Assembly. KEA President Stephanie Winkler introduced the group and they offered the delegates a PowerPoint presentation on their experiences.
Comments
---
---
View the News & Information Archives
---