Are you considering National Board Certification?
Register for Jump Start Sessions
Tags:
National Board Certification Trainings
---
NBCT/ KEA Cadre has many opportunities to help you along your professional journey.
Meet Holly Bloodworth, NBCT and newly elected president of the National Board Network in Kentucky. This group of NBCT's work together to support the profession and the promotion of National Board throughout Kentucky. If you are already an NBCT you are encouraged to join the Kentucky Network. If you are beginning your work on National Boards we hope you will take advantage of all the tools and resources KEA has to offer.
Click video below for Holly's message.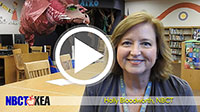 Click here to learn more about the NBCT/ KEA Jump Start Opportunities:
Jump Start is a two and a half (2.5) day training covering foundations and all four components of NBCT. It is intended to "jump start" your NBCT process and help you feel more comfortable and confident in the process. The Registration fee is $200 for KEA members and $500 for non-KEA.
Jump Start Lexington
Jump Start Florence
Jump Start Paducah
Jump Start Louisville
A minimum of ten (10) participants must register before a session is held. Registration closes one (1) week prior to the the registration date. If you choose a date and registration is closed you will not be able to attend that session.
Comments
---
---
View the News & Information Archives
---